News From The Transpower group
News From The Transpower group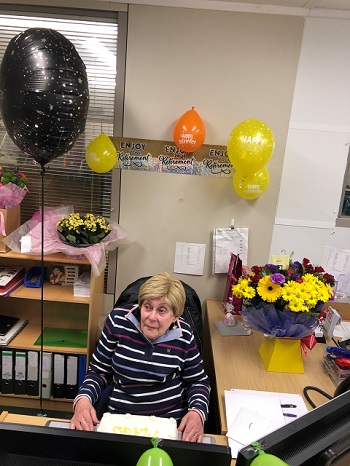 Transpower Drives,
Wednesday 30th March. Today we said goodbye to Margaret Linnitt, She has worked at Apple Rochester Gears for 35 Years, But she has finally decided that its time to hang up the job cards and move into another gear, Margaret, the whole of Apple and Transpower hope you enjoy your retirement and finally you get to take it easy and relax. We all wish you the best for the future, Thank you for all your hard work over the past 35 years.
Today we said goodbye to our MD, David Linnitt, David has been with us for the past 3 years, guiding the Company and Directors through the Management buy out and transition period. Now David has finally answered the call of retirement. Wishing you all the best for the future & let's hope you can finally put your feet up and enjoy some downtime. From all at Transpower and Apple, thank you for all you have done and put in place for the future.
The biggest change to happen to Transpower Drives in its 40 years of trading, (YES we have been around since 1982). We are opening a web store, Yes the website has been revamped and replaced with THIS bright new One, which has a fully integrated E-Commerce, WEB STORE. The store is fully integrated with our Merlin business software package, this integration brings many impressive advantages, We are able to add any stocked item to the website, within minutes, With all the information you could need. And the biggest change for our customers, it will allow you to see if the items you are looking for are in stock or not, plus the system will allow account customers to log on to their own account and purchase directly from the site, using your part numbers (as long as we have them) and using your own Purchase Order Numbers.
We are also starting a click and collect service, on all in-stock items, So if you see a product on the web store and it's in stock you can order it and once you have had the confirmation e-mail from us you can come over within the hour to collect from our Wellingborough Trade counter. This is just one of the many new and exciting things that will be happening over the next couple of months. Keep your eyes open and remember to drop by here every now and again to get the latest updates on the Transpower Group.
Apple Gears
We have just taken delivery of our latest machine for the Apple Gears Workshop, A HURCO TM10i CNC Lathe, This has been a major investment for the group and shows that we are serious about the work that we produce, This Lathe will help us work smarter and more efficiently, to move your job out the door faster, but keeping the Tolerances and the quality of the work to our usual high standard. We have sent Three of the Companys Turners to Hurco to be Trained, and the in house training has been completed, I'm sure it will be a massive asset to the whole group.