QAS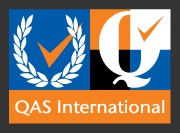 Who are QAS International
QAS International Ltd. is an established certification company that has been operating within the UK and selected international markets for over 20 years. QAS International Ltd. focuses on internationally recognised ISO standards.
Companies achieving ISO certification build trust and inspire confidence in customers, business partners within supply chain metrics. ISO certification is widely referred to in the qualification requirements of tendering contracts.
ISO certification with QAS International Ltd. provides straightforward and unbiased clarification to business partners and customers demonstrating a business relationship of quality.
ISO 9001 Certification
ISO 9001 is the internationally recognised standard for the quality management of businesses. The aim of ISO 9001 is to give improved product, process and service quality within an organisation and can lead to increased productivity with a reduction in waste through streamlining of current working practices.
ISO 9001 acts as the initial stepping stone for organisations on the path to success through improved customer satisfaction, staff motivation and continual improvement. Certification communicates to your customers and prospects that you comply with this internationally recognised standard, building confidence whilst demonstrating your commitment to quality.
With continuous surveillance audits, QAS International will help to ensure your organisation achieves continual improvement. The team of experienced auditors review the fundamental business controls, continuingly striving to assist you in the delivery of continuous improvement and business performance.
Please download the certificates below.